Tsholotsho flood survivors
three years on after the disaster caused by Cyclone Dineo
C Nyoni

B Muzembi

M Mhlanga

D Mureriwa

F Jaji

M Muzire
Keywords:
Cyclone Dineo, Tsholotsho, floods, disaster
Abstract
Rapid and slow onset disasters have periodically affected Zimbabwe over time. In the 2016-2017 agricultural season flooding as a result of cyclone Dineo affected Tsholotsho resulting in the displacement of people, loss of life for both people and animals and a reconfiguring of livelihoods. A qualitative research employing a phenomenological design examined the state and lives of the Tsholotsho disaster survivors two years after the flood with a view to understanding the needs of the people and establishing how the community has moved over time to restore, rebuild and diversify their livelihoods. Key informant interviews with the Provincial and District Administrators; Focus group discussions with the District and Ward Level Civil Protection Committees; Secondary analysis of sectoral reports, A Transect walk of the camp; Household and Community FGDs, and in-depth household interviews were conducted to gather data from the flood survivors. The study established that Tsholotsho flood disaster survivors faced a myriad of challenges, chief among them the reconstruction of livelihoods, food insecurity, poor educational opportunities for the children post the emergency and broken family systems owing to the maintenance of dual homes as well as gender-based violence.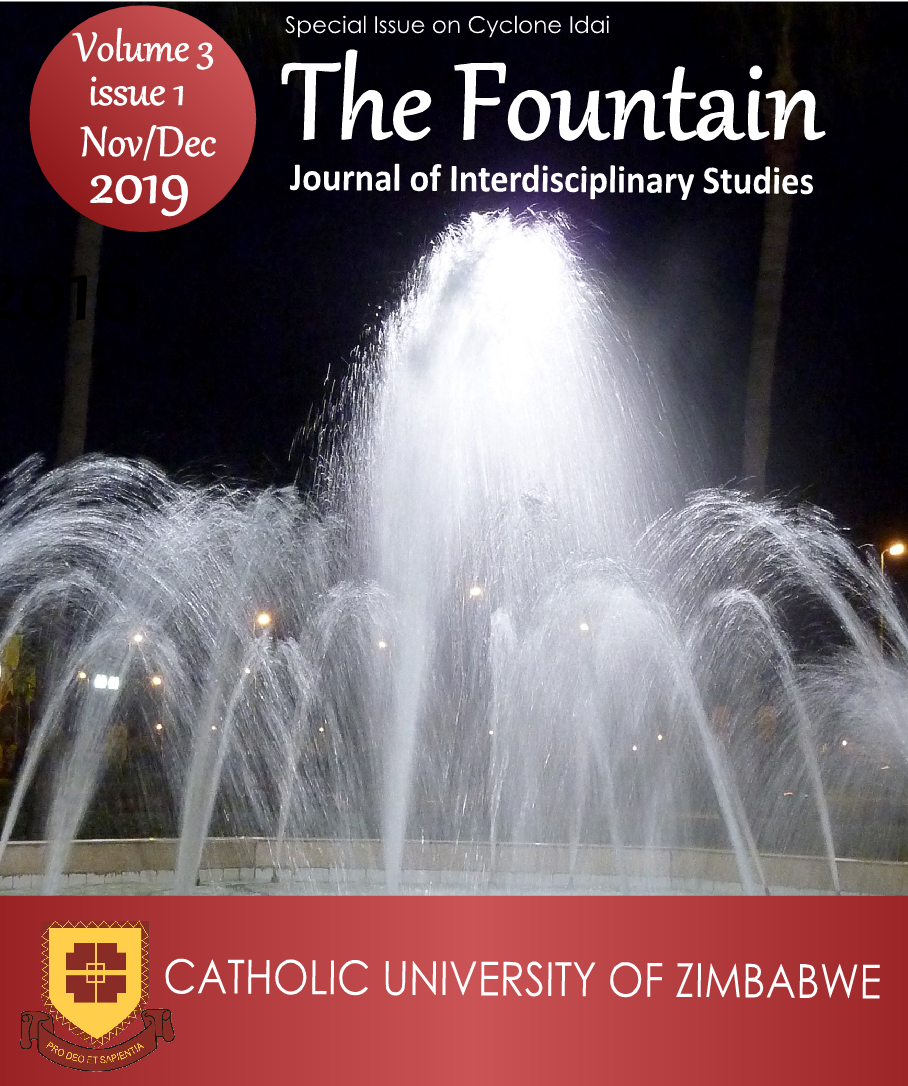 How to Cite
Nyoni, C., Muzembi, B., Mhlanga, M., Mureriwa, D., Jaji, F., & Muzire, M. (2019). Tsholotsho flood survivors. The Fountain: Journal of Interdisciplinary Studies, 3(1), 57-67. Retrieved from http://journals.cuz.ac.zw/index.php/fountain/article/view/151
Copyright (c) 2019 C Nyoni, B Muzembi, M Mhlanga, D Mureriwa, F Jaji, M Muzire
This work is licensed under a Creative Commons Attribution-NonCommercial-NoDerivatives 4.0 International License.
The copyright for all articles belongs to the authors. All other copyright is held by the journal.